April 2nd 2021
This is my first time entering the the wonderful Spring Fling Kidlit Contest hosted by Ciara O'Neal and Kaitlyn Leann Sanchez. Here is more information on the Spring Fling Kidlit Contest. Thank you to both Ciara and Kaitlyn for such a fun contest.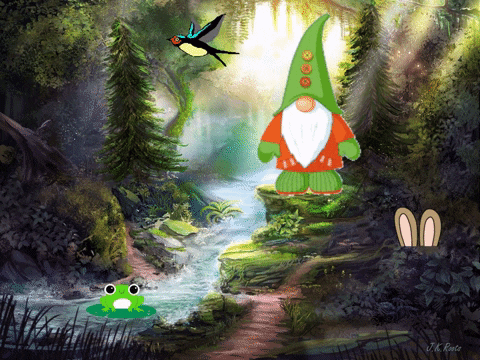 Gnome's New Home
148 words.
In a fierce Winter storm, Neo's home was destroyed.
As the dappled sun awoke, he set off to find a new home.
Whilst walking, high above he saw something shining.
Gnomes love shiny things.
He climbed up and sat in the large basket.
'Out of my nest!' screeched Magpie.
'It's a bit high' said Neo clambering down.
Continuing, he found a tunnel nestled between wildflowers.
Gnomes love wildflowers.
'Out of my burrow!' stomped Bunny.
'It's a bit dark' said Neo sliding out.
Before long, he spotted a floating leaf beside a mossy bank.
Gnomes love mossy banks.
'Off my lily-pad!' croaked Frog.
'It's a bit wet' said Neo jumping off.
'I have no home' he sobbed.
'We have a surprise for you' said Magpie, Bunny and Frog.
There it was.
A shiny lily-pad nest, on a mossy bank, by wildflowers.
'It's perfect' he whispered to his new friends.